H J Promotional Products
H J Promotional Products is a family-owned company that has been in business since 1996. At H J Promotional Products we like to say that if we cannot find it, it doesn't exist. What exactly is IT? "It" is literally anything you can think of that you would like to brand with your name, logo and/or marketing message. From pens and flyswatters to corporate apparel and high end merchandise we have access to the top suppliers in the industry. Adding your name to these products lets your customers know who you are and helps them to remember you during the crucial decision-making process.
Featured Item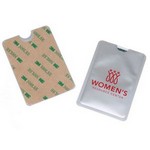 RFID Pocket Protector
In today's technological age, you can never be too careful when it comes to fraud protection. Protect yourself with this RFID pocket protector. Many credit cards, ID's & even passports have RFID chips...